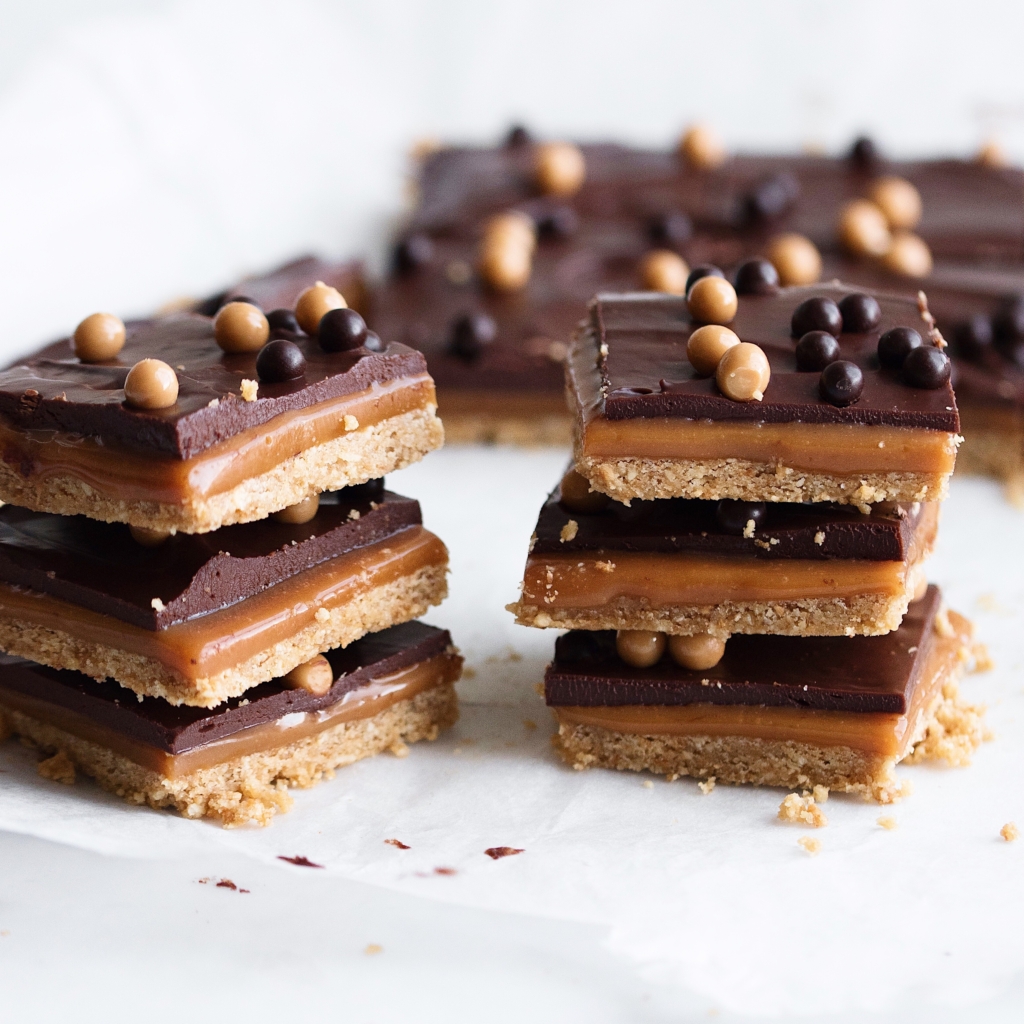 No-bake millionaire's shortbread with a hazelnutty biscuit base, soft and chewy caramel and silky smooth dark chocolate ganache. Simple and just delicious!
Try them ♥
No-bake Millionaire's shortbread 
16-20 servings
Base:
180 g oat biscuits
35 g toasted hazelnuts
85 g butter, melted
1 pinch of salt
Caramel filling:
200 g soft caramel candy, I used "Chewy Toffees/caramels" from Werther's Original
25 g heavy cream
Ganache:
85 g good quality dark chocolate
85 g heavy cream
Decoration:
Chocolate pearls
Base:
Blend the oat biscuits to fine crumbs in a blender together with the toasted hazelnuts. Add the mixture to a bowl. Mix in the melted butter and salt. Press the biscuit crumbs into a square cake tin (22 cm x 22 cm) lined with baking paper. To create an even base feel free to use a straight-sided glass to press the crumbs evenly in the base of the tin. Chill while preparing the caramel filling.
Caramel filling:
Add the soft caramels and heavy cream to a thick-bottomed saucepan. Gently melt the caramels with the cream over medium heat while stirring. Let the mixture slightly boil for an instant before pouring it onto the biscuit base. Chill while preparing the ganache.
Ganache:
Finely chop the chocolate and put it into a bowl. Warm the heavy cream to just below boiling point in a small saucepan. Pour the hot cream onto the chocolate. Let is sit for two minutes and then stir using the same circular motion from the centre and out until the chocolate and cream unite in a beautiful ganache. Pour on the caramel and decorated with chocolate pearls.
Chill for at least 3-5 hours before cutting out.