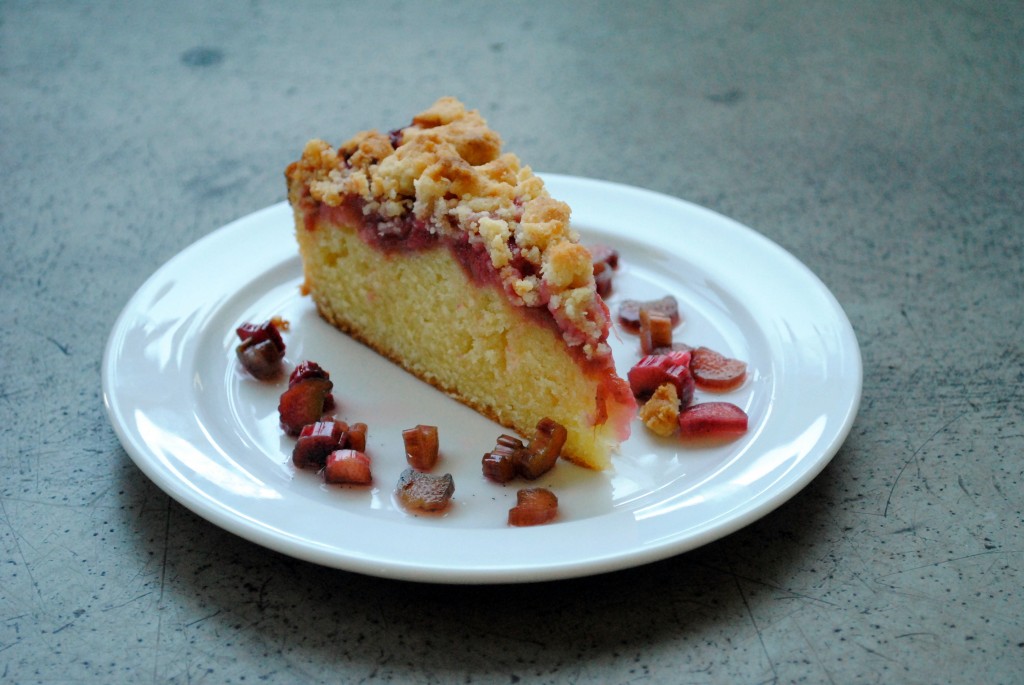 How I like my rhubarb cake. Soft and crunchy – sweet and fresh!
Rhubarb cake with crumble
8-10 servings 
Cake:
190 g butter, softened
190 g sugar
3 eggs
190 g plain flour
Rhubarb compote:
290 g rhubarbs, cut in slices of 5-7 mm
75 g sugar
1 tbsp water
1/4 vanilla pod
Crumble:
75 g plain flour
40 g sugar
40 g almond flour/finely blended almonds
75 g butter
Cake:
In a bowl whisk together butter and sugar until light and creamy. Add the eggs one at a time. Use a spatula to fold in the flour.
Rhubarb compote:
Bring all the ingredients to the boil and simmer until a soft and tender consistency.
Crumble:
Mix flour, sugar and almond flour together and rub in the butter, until it ressembles moist bread crumbs.
Finalize the cake by pouring the cake batter into a round cake tin (22 cm) lined with parchment paper and then add the rhubarb compote and finally the crumble dough. Bake the cake in the oven at 180 degrees Celsius for about 50 minutes. Use a toothpick to check for doneness.