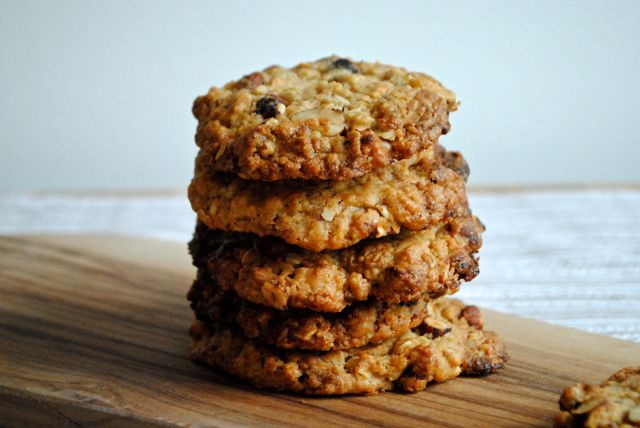 Crunchy and chewy.. that's how I like my cookies. These ones are filled with the blond Dulcey chocolate from Valrhona and hazelnuts. 
Cookies with Dulcey and hazelnuts
12 cookies

100 g butter, softened
75 g brown sugar
75 g sugar 
1 egg 
125 g flour
75 g oatmeal
1/2 tsp baking powder
1/3 tsp salt
100 g hazelnuts, chopped
125 g Dulcey 32% blond chocolate from Valrhona 

In a bowl whisk butter, brown sugar and sugar together into a creamy and lighty fluffy consistency. Add the egg. Fold in flour, oatmeal, baking powder and salt. Finally add the hazelnuts and Dulcey chocolate to the cookie dough. Cover and refrigerate for 1 hour. Preheat the oven to 185 degrees Celsius. Use an ice cream scooper to scoop equal size balls of batter and place on a baking tray lined with parchment paper. Make sure to leave space around the cookies for spreading. Bake for about 10-12 minutes.