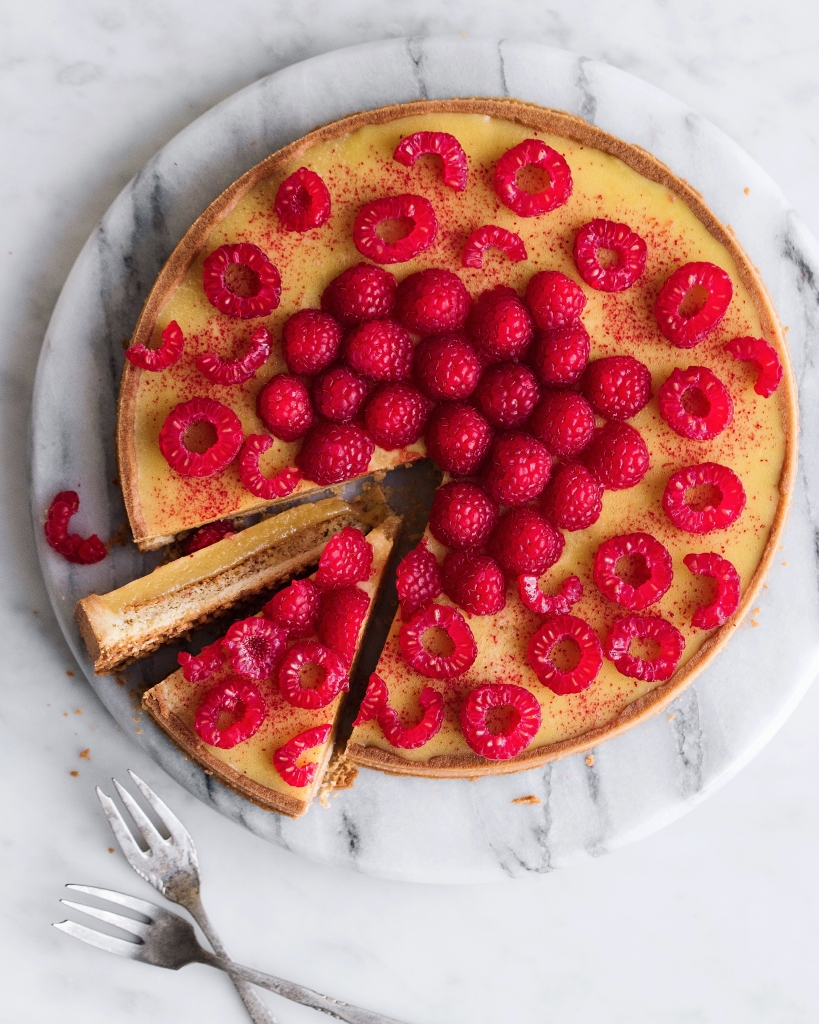 Passionfruit raspberry frangipane tart shared with sweet friends ♥
Passionfruit tart with frangipane and raspberries
6-8 servings
Shortcrust:
140 g flour
40 g powdered sugar
1 pinch of salt
70 g butter, cold
1 egg yolk
Frangipane:
40 g butter, softened
40 g sugar
40 g almond flour, or finely blended almonds
1/2 egg
Passionfruit ganache:
200 g Inspiration Passion from Valrhona
15 g glucose syrup
100 ml heavy cream
Topping:
Freeze-dried raspberries
Raspberries
Shortcrust:
Add flour, powdered sugar and salt to the bowl of a stand mixer (I have a Kitchen Aid). Cut butter into thin slices and add it to the other ingredients. Turn on the mixer and let it mix until the dough ressembles bread crumbs. Gather the dough with the egg yolk. Cover the dough and let it chill in the refrigerator for 30 minutes. Roll out the dough between two pieces of parchment paper and transfer it into a perforated tart ring (20 cm) preferably on a perforated baking tray. Chill while preparing the frangipane cream. Preheat the convection oven to 175 celsius degrees (in a regular oven: 180 celsius degrees)
Frangipane:
In a bowl whisk together butter and sugar to combine well. Fold in the almond flour and finally add the egg. Pour the frangipane cream on the shortcrust and bake the tart for about 18-20 minutes. Cool the tart.
Passionfruit ganache:
Finally chop the Inspiration Passion and add it to a bowl. Warm glucose syrup and cream to 80 celsius degrees in a small saucepan and pour onto the chocolate. Stir using the same circular motion from the centre and out until the passion chocolate and cream unite in a beautiful ganache. For a silky-smooth finish you can use a hand blender at the end. Pour over the cooled tart and chill overnight or for at least 4-6 hours.
Serve with a dust of freeze-dried raspberries and lots of fresh raspberries.