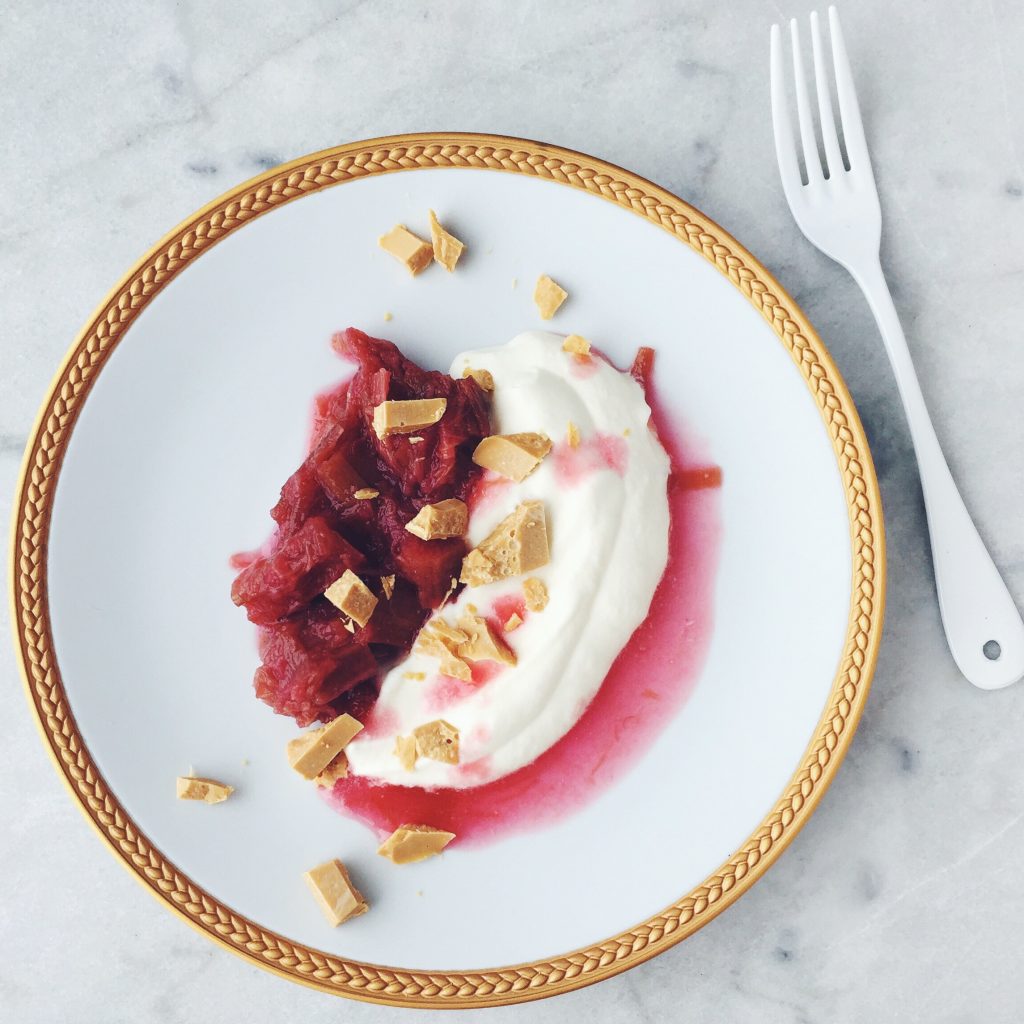 I adore simple and delicious desserts, ice creams and cakes. ADORE! When the pure taste of great ingredients gets to take centre stage, I am pretty easily satisfied. Like with this simple summer dessert. The ultimative summer dessert, in my humble opinion. A sweet rhubarb compote with the perfect acidity, caramelized white chocolate and a lightly whipped cream. The latter can be replaced by a velvety vanilla ice cream, if you want to.
Rhubarbs with caramelized white chocolate and whipped cream
4 servings
Rhubarb compote:
300 g rhubarbs, cleaned
100 g homemade vanilla sugar (or 100 g sugar and seeds from 1/2 pod)
1,5 tbsp water
Caramelized white chocolate:
70 g white chocolate, preferably Opalys 33% from Valrhona*
a pinch of salt
2 dl heavy cream
Rhubarb compote:
Cut the rhubarbs in 1 cm slices. Add the rhubarbs, vanilla sugar and water to a saucepan and bring it to a boil. Let it boil for about 5-7 minutes, until the rhubarbs are soft and tender. Cool down the rhubarb compote and store it in the refrigerator until serving time.
Caramelized white chocolate::
Chop the white chocolate and put it in a baking dish. Bake the chocolate in the oven at 120 degrees Celsius for 1 hour. Stir the chocolate thoroughly every 10 minutes. The chocolate mass will appear lumpy while baking, but when it caramelizes it will become liquid again. Just stir well! Finally add the salt and let the caramelized white chocolate cool down.
Whisk the cream lightly and serve it with the rhubarb compote and sprinkle with roughly chopped caramelized white chocolate.
*I made 140 g of caramelized white chocolate (using two 70 g chocolate bars) and have been enjoying the rest of the caramelized white chocolate the last couple of days.