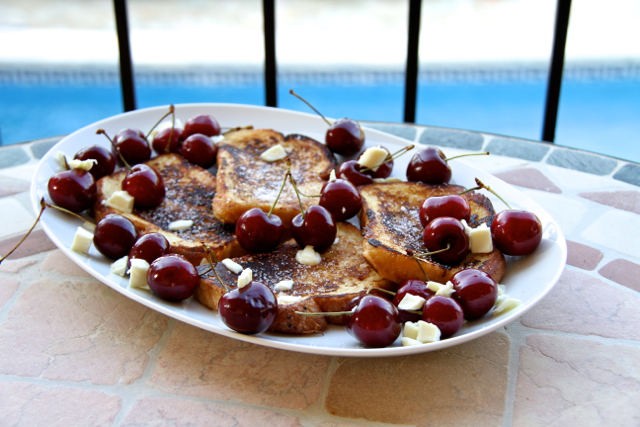 French toast is one of the best and most comforting dishes you can serve at breakfast, in my opinion. 
French toast with cherries and white chocolate
4 servings
200 g cherries
50 g white chocolate, Ivoire 35% from Valrhona
1 egg
2 tbsp sugar
1 dl full fat milk
4 slices toast bread or brioche bread
20 g butter for frying
1 tbsp sugar (to sprinkle on top)
Remove the stone from the cherries but leave some whole for decoration. Chop the white chocolate.
Whisk together egg, sugar and milk in a bowl. Dip the bread in the egg mixture and fry golden brown and the flip to fry the other side. Arrange the french toast on a plate and sprinkle with sugar, cherries and white chocolate. Serve straight away.
Another version: Sprinkle cinnamon sugar on top of the french toast when serving them together with milk chocolate in chunks and fresh blueberries.