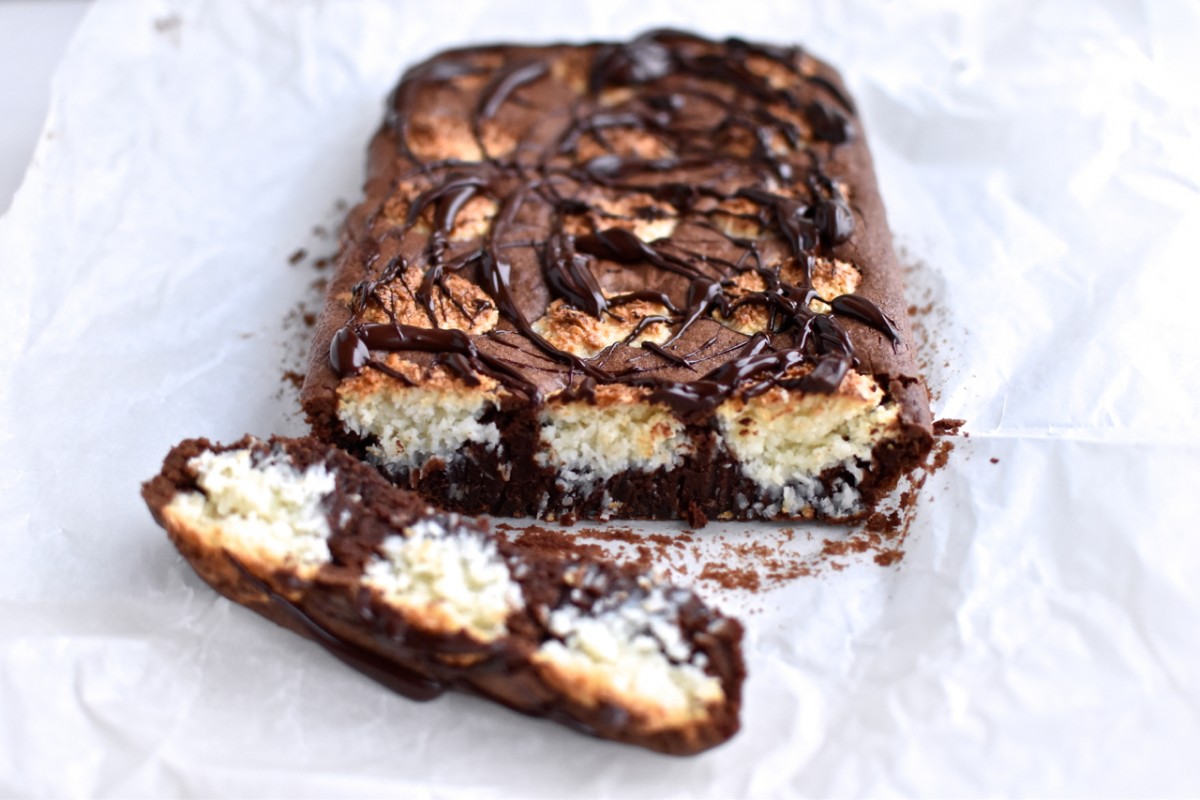 This is without a doubt my new favorite brownie. The combination of chocolate rich brownie and sweet aromatic coconut is just divine. It is almost like biting into a brownie with bounty bars inside. Except the "bounty balls" are homemade <3
Coconut brownie bounty style
15 servings
200 g butter
200 g good dark chocolate
125 g flour
3 eggs
265 g sugar
½ tsp salt
130 g shredded coconut
200 g sweetened condensed milk
Chocolate topping:
60 g good dark chocolate
10 g butter

Preheat the oven to 180 degrees celsius. Melt the butter in a saucepan and remove it from the heat. Immediately add the chopped dark chocolate to the melted butter and let it melt to combine. Whisk the flour, eggs, sugar and salt in a bowl until smooth and fluffy. Slowly add the chocolate-butter mixture. Pour the brownie batter into a baking pan lined with baking paper (I used a 26 cm x 18 cm baking dish but feel free to use a square cake pan 22 cm x 22 cm instead). Mix coconut with the condensed milk and form balls out of the mixture (15 if you use the rectangular baking dish and 16 if you use a square pan) Bake for about 25-30 minutes. Cool down. The brownies have to rest in the refrigerator before getting cutted into squares. Preferably over night, but for at least 4 hours.
Melt the chocolate for the topping in a bowl in the microwave oven on low heat with short intervals. Feel free to make use of a Bain-Marie instead. Add the butter and stir until melted together with the chocolate. Use a teaspoon to decorate the coconut brownie with the chocolate.