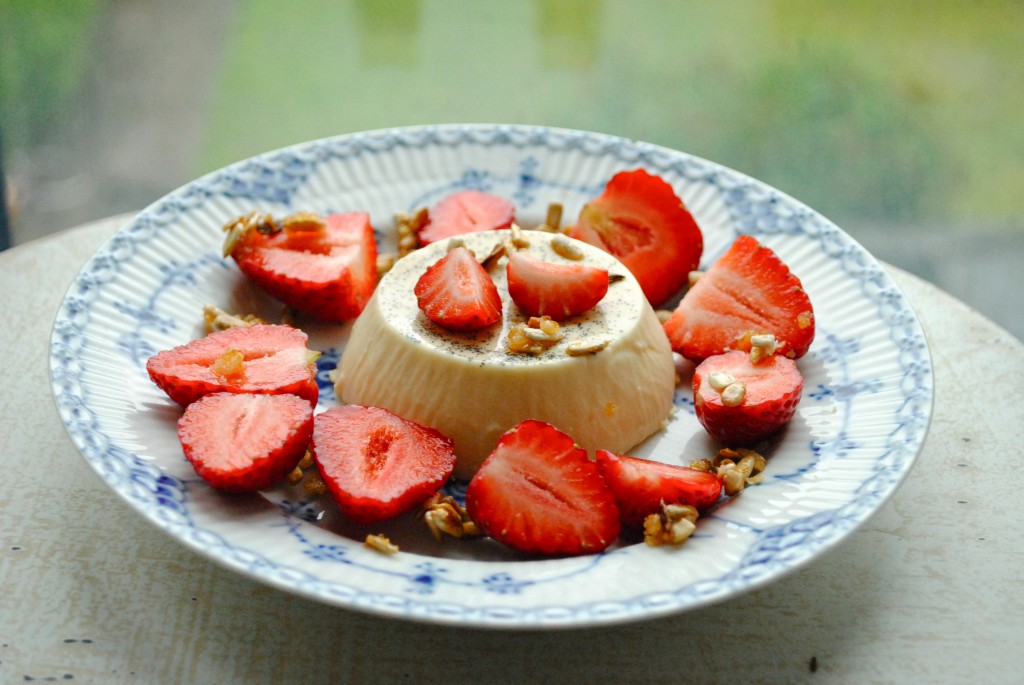 An delicately aromatic and silky-smooth panna cotta served with fresh strawberries and crunchy caramelized sunflower seeds. The perfect summer treat!
Rose Panna Cotta with strawberries and caramelized sunflower seeds
6-8 servings
Panna Cotta:
1/2 liter heavy cream
2,5 tbsp dried rose petals
1 vanilla pod
50 g sugar
2 gelatin sheets (3,5 g)
Caramelized sunflower seeds:
60 g sugar
60 g sunflower seeds
Panna Cotta:
Put the cream in a saucepan together with rose petals and heat to boiling point. Remove from heat and let it sit for 15 minutes. Scrabe out the seeds of the vanilla into the cream and also add the vanilla pod and sugar. Heat to boiling point. Soften the gelatin sheets in cold water for 5 minutes. Squeeze excess water from the gelatin and stir it into the hot cream until completely dissolved. Strain the rose cream through a sieve and divide the mixture evenly into 6-8 ramekins. Chill in the fridge for at least 4 hours before unmolding them.
Caramelized sunflower seeds:
Melt the sugar to a light golden caramel in a pan and add the sunflower seeds. Toast them in the caramel at medium heat for a minute. Leave to cool on a parchment paper.
Serving:
Run a thin knife around the sides of the ramekin. Dip the ramekin in warm water up to its rim, and hold it there for about 3 seconds before turning the panna cotta on to a plate.
Serve the panna cottas with fresh strawberries and caramelized sunflower seeds.