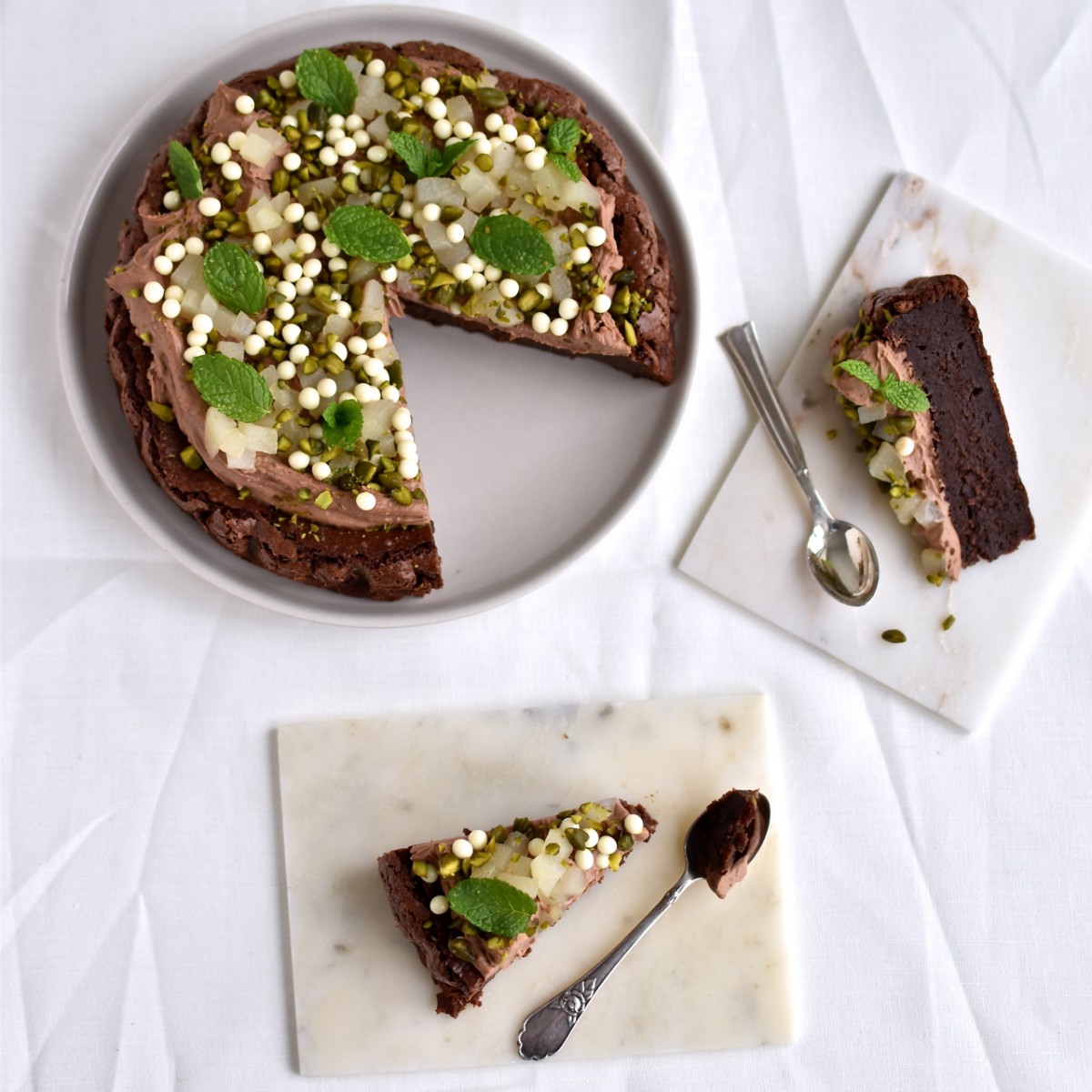 This rich chocolate cake tastes like Autumn with its aromatic spices. Chocolate cake with cinnamon milk chocolate whipped cream, pistachios, ginger-poached pear dices and white chocolate pearls.
Autumnal chocolate cake
10-12 servings
Chocolate cake:
200 g dark chocolate, chopped
200 g butter
250 g sugar
5 eggs, lightly beaten together
1 tbsp flour
Cinnamon milk chocolate whipped cream:
190 ml heavy cream
1 tsp powdered cinnamon
115 g milk chocolate
Ginger poached pear:
10 g fresh ginger
3 dl water
100 g sugar
1 pear
Chopped pistachios, white chocolate pearls and fresh mint for decoration.
Chocolate cake:
Melt the butter in a saucepan and add the chocolate straight away. Stir until the chocolate has melted completely. Remove from the heat and stir in the sugar. Cool slightly down and then add the eggs gradually. Finally fold in flour. Pour the chocolate cake batter into a round cake tin (22 cm) lined with baking paper. Bake the cake in the oven at 180 degrees Celsius for about 25 minutes. Cool down and store in the refrigerator until serving. Bake at least 6 hours in advance and preferably the day before.
Cinnamon milk chocolate whipped cream:
Heat the cream and cinnamon to boiling point in a saucepan. Meanwhile, finely chop the milk chocolate and put it into a bowl. Pour the hot cream over the milk chocolate and let it rest for 1 minute. Use a whisk to stir the chocolate cream until all the chocolate is melted together with the cream. Cool down, wrap the bowl and store overnight in the fridge.
Ginger poached pear:
Scrape away the peel of the ginger and chop the ginger into smaller pieces. In a saucepan bring water, sugar and the ginger pieces to boiling point and let is boil until the sugar has dissolved. Meanwhile, peel the pear, cut the pear into small dices and put it into the sugar syrup. Let it simmer for about 5 minutes and then remove the saucepan for the heat. Let the pear dices cool in the syrup.
When serving:
Put the chocolate cake on a serving plate. Whisk the milk chocolate cream to a light whipped cream (don't over-whisk because then it will become grainy. Spread the milk chocolate whipped cream on the cake. Sprinkle with pear dices, chopped pistachios, white chocolate pearls and mint. Serve immediately or store in the fridge until serving.