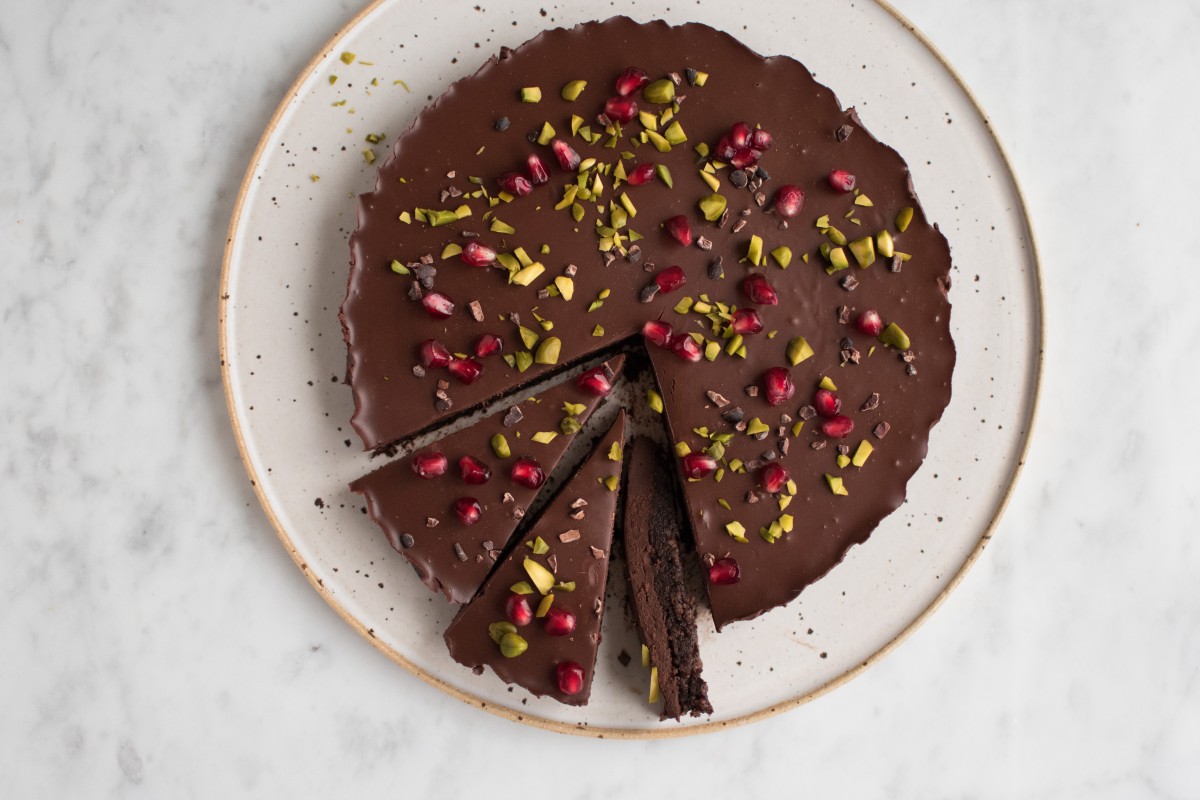 No-bake date truffle cake with pomegranate ganache made for three sweet friends and almost neighbors.
No-bake date truffle cake with pomegranate ganache
10 servings
Date cake base:
130 g almonds
130 g dates, pitted
1/2 tsp vanilla powder
2 tbsp good quality cocoa powder
1 pinch of sea salt
Juice from 1 orange
Pomegranate ganache:
140 g good quality dark chocolate, I used Guanaja 70% from Valrhona
100 ml heavy cream
40 ml pomegranate juice (made by pressing pomegranate seeds through a sieve)
Decoration: Pomegranate seeds, pistachios and cocoa nibs
Date cake base:
In a food processor process the almonds until crumbly. Then add the dates, vanilla powder, cocoa powder, salt and orange juice and process again until you get a sticky batter. Press out the date batter in a 20 cm springform pan or loose-bottomed tart tin lined with baking paper. 
Pomegranate ganache:
Finely chop the chocolate and pour it into a bowl. In a saucepan heat cream to boiling point and immediately pour over the chocolate. Then stir the chocolate cream in a circular pattern from the middle until the ganache is well combined. Add the pomegranate juice and stir to combine. Pour the ganache on the date cake base and chill in the refrigerator for five hours or over night.
Decorate the cake with pomegranate seeds, chopped pistachios and cocoa nibs before serving.