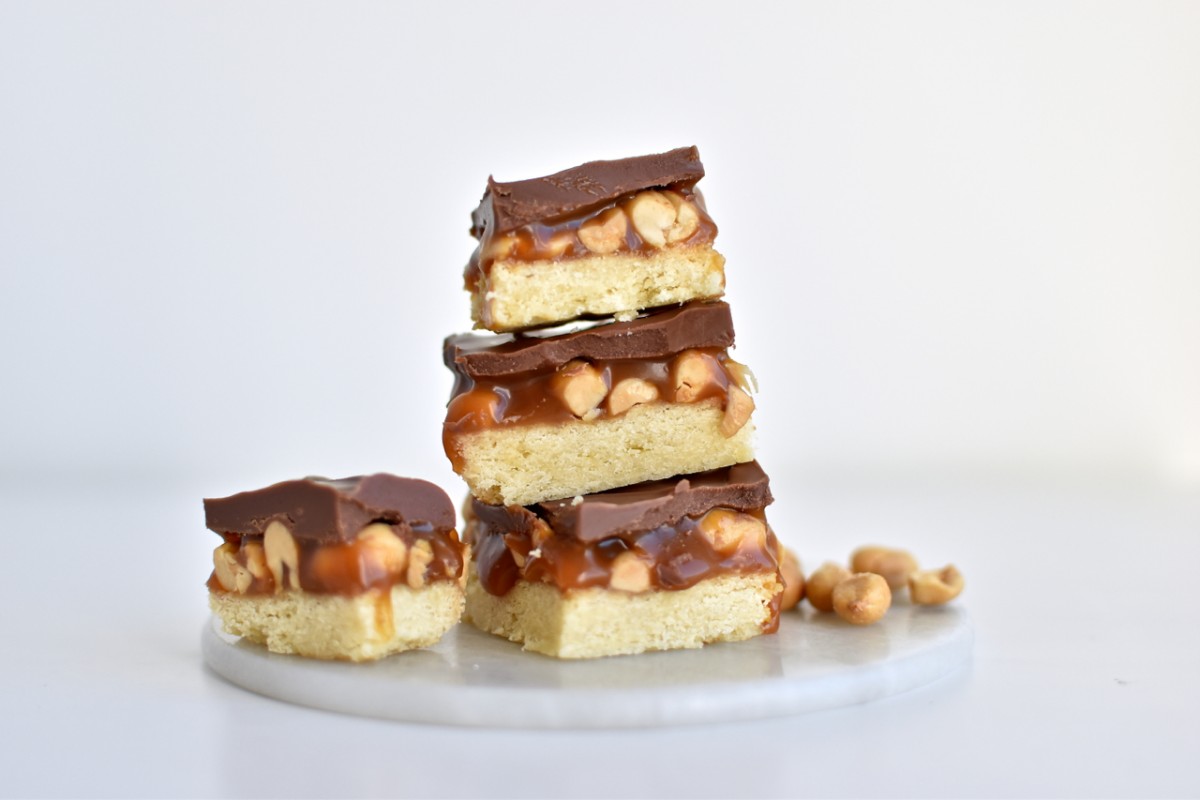 These divine peanut caramel shortbread bars with milk chocolate are the perfect hybrid between a Snickers bar and a Twix bar. Make them and taste for yourself <3
Peanut caramel shortbread with milk chocolate
15-20 pieces
Shortbread:
200 g plain flour
60 g sugar
125 g butter
1 tbsp cold water
100 g salted peanuts
Caramel:
160 g sugar
200 ml heavy cream
40 g butter
Chocolate layer:
200 g good quality milk chocolate
30 g butter
Shortbread:
Mix flour, sugar and butter together in a bowl until it ressembles bread crumbs. Add water and quickly gather the dough. Press the shortbread dough into a baking pan lined with baking paper (I used a 26 cm x 18 cm baking dish – but feel free to use a square 22 cm x 22 cm baking pan instead). Use a fork to make wholes in the shortbread. Bake in the oven at 180 degrees Celsius for about 25 minutes until nicely golden. Remove from the oven and cool down in the baking pan. Sprinkle peanuts on top of the shortbread.
Caramel:
Melt the sugar into a light golden caramel in a thick-bottomed saucepan. Meanwhile heat the cream in another saucepan or in a bowl in the microwave. Remove the golden caramel from the heat and stir in the cream while stirring a lot. Then add the butter straight away. Cool the caramel down for about 10 minutes and then pour it on the shortbread and peanuts. Store in the refrigerator for 2 hours.
Chocolate layer:
Melt the chocolate in a bowl in the microwave oven on low heat with short intervals (stir a few times during the melting). Feel free to make use of a Bain-Marie instead. Add the butter and stir until melted together with the chocolate. Take the caramel shortbread out of the refrigerator and the spread the chocolate on top of the peanut caramel. Return to the refrigerator and store for another 2-4 hours to set completely. Cut out the caramel bars just before serving.