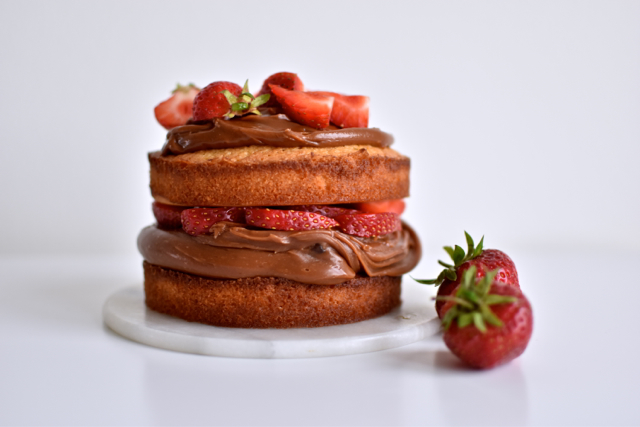 Moist almond cake, velvety salted caramel ganache and sweet strawberries. Joy in a cake!
Almond cake with salted caramel ganache and strawberries
4-6 servings
Almond cake
100 g butter, softened
100 g sugar
2 eggs
50 g plain flour
50 g almond flour
Salted caramel ganache
150 g milk chocolate, preferably Jivara 40% from Valrhona
75 g sugar
75 g heavy cream
1/4 tsp salt
Strawberries in slices
Almond cake:
In a bowl whisk together butter and sugar to combine well. Add the eggs one at a time. Finally fold in flour and almond flour. Divide the cake batter into two buttered springform pans (12 cm) with the bottom lined with parchment paper. Bake the cakes in the oven at 180 degrees Celsius for about 20-25 minutes. Use a toothpick to check for doneness. Cool down.
Salted caramel ganache:
Finely chop the milk chocolate and put it into a bowl. Melt the sugar to a light brown caramel in a thick bottomed saucepan. Meanwhile heat the cream in another saucepan (or in the microwave oven). Remove the caramel from the heat and immediately stir in the cream. Stir well and pour it over the chopped milk chocolate. Rest for two minutes before stirring with a spoon from the center in circular movements until the ganache is silky smooth. Season with salt. Keep the ganache in the fridge for 2-3 hours before using it.
Assembling the cake:
Spread the ganache on the two cakes and add some of the strawberries on one of the two cakes. Place the other cake on top and decorate with the last strawberries before serving.