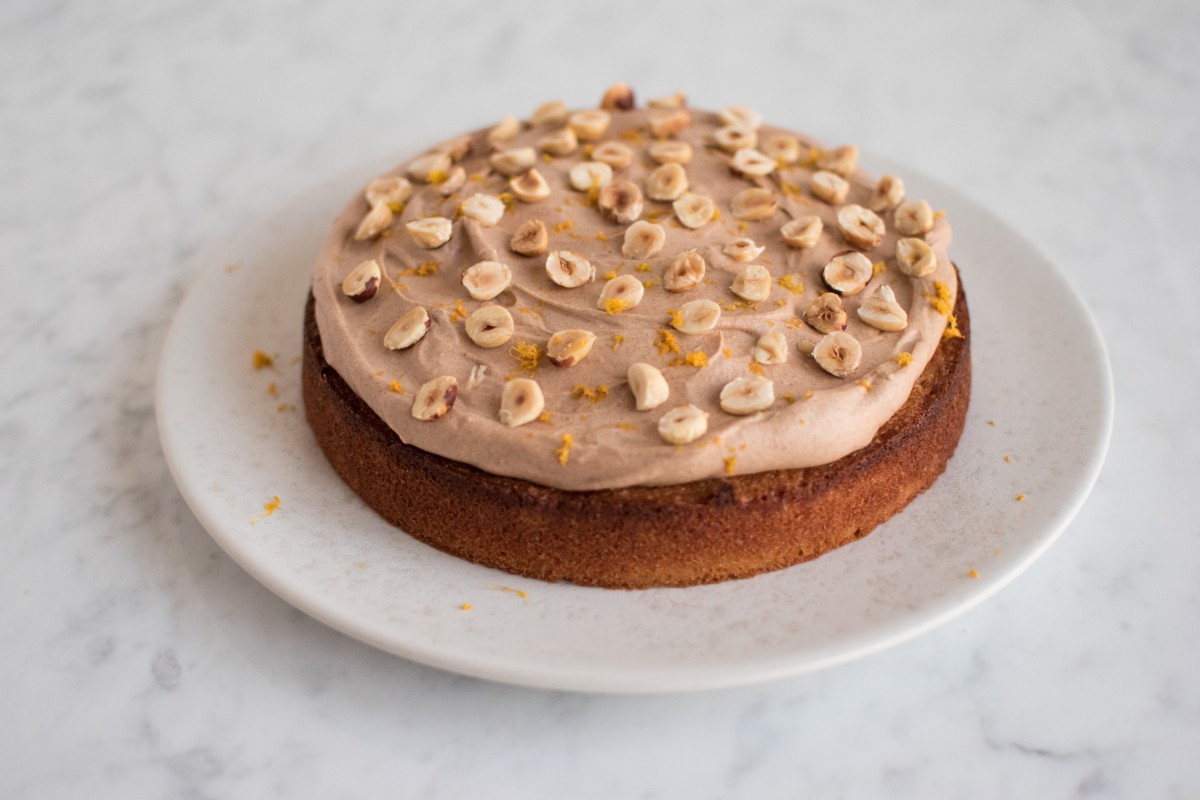 This moist marzipan cake with the perfect hint of orange and cinnamon and the most delicious gianduja whipped cream on top will definitely get you into the Christmas spirit. 
It is a great idea to bake the cake and make the gianduja cream one day in advance, so all you have to do when serving is to whisk the gianduja cream.
Christmassy marzipan cake with gianduja whipped cream
8-10 servings
Marzipan cake:
150 g marzipan
150 g sugar
150 g butter, softened
3 eggs
75 g plain flour
Zest of 1 organic orange
1/2 tsp cinnamon
Gianduja whipped cream
190 ml heavy cream
115 g gianduja
30 g hazelnuts
Preheat the oven to 180 degress Celsius. In a bowl whisk together marzipan and sugar well and then add butter while continuing to whisk. Add the eggs one at a time. Fold in flour, orange zest and cinnamon. Pour the cake batter into a buttered springform pan (20 cm) with the bottom lined with baking paper. Bake for about 30 minutes. Use a toothpick to check the cake for doneness. Cool down the cake completely.
Gianduja whipped cream:
Heat the cream to boiling point in a saucepan. Meanwhile, finely chop the gianduja and put it into a bowl. Pour the hot cream over the gianduja and let it rest for 1 minute. Use a whisk to stir the gianduja cream until all the gianduja is melted together with the cream. Cool down, wrap the bowl and store overnight in the fridge.
Hazelnuts:
Roast the hazelnuts in a small baking dish in the oven at 180 degrees Celsius for about 10 minutes, until they are brown but not burned. Place the hazelnuts on a clean kitchen towel and rub the hazelnuts together until the skin has been removed.
When serving:
Put the marzipan cake on a serving plate. Whisk the gianduja cream to a lightly whipped cream. Spread the gianduja whipped cream on the cake. Cut the hazelnuts in halves and decorate the cake with them and some more orange zest.